Turn your business into a wireless hotspot.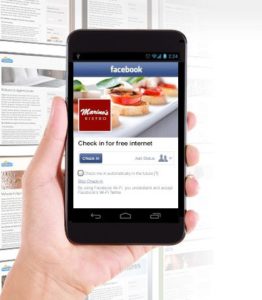 Forget about complex wireless router settings. Ease your security concerns! Give your customers monitored access to wireless Internet while securing your business network from hackers. Customers simply check in to your location on Facebook to connect to free wi-fi.
Increase customer Facebook engagement rates
Wi-Fi codes and passwords aren't necessary
No new accounts to create for your customers
Customers can manually check in or set it to automatically check them in whenever they visit your location.