Printable Vouchers for a Custom Experience
Print vouchers to get your customers online for a specific amount of time and at the level of service you choose.  Each voucher can be set to a different Internet speed and time limit.  Add your business logo and a message for a truly custom experience.  Use your current standard printer to print vouchers ahead of time or use a receipt style printer that prints at your POS. We even have customers that have unique passwords printed on their coffee cup sleeves.

A great fit for target marketing
Target marketing to repeat customers is much more effective than marketing to first time customers.  Use Facebook ads to target users who are connected with your business page.  Use a Facebook pixel on your landing page to have highly targeted offers follow the user around Facebook getting the repetition your ads need to be effective.
Expand your marketing reach
Each time someone uses your guest wi-fi they will be sharing your business location to their Facebook audience.  People will see that their friend is visiting your location therefore making a soft recommendation without having to write a review or make any other action.  Let your customers spread your message across social media for you! Additionally the users details can be added to your marketing lists.

Gain insights into your customers
Access aggregate demographics data such as age and gender of your customer base and understand peak traffic times.  Peek at who has been using your wi-fi and view their Facebook profile all with ease.
Help people find your business
When customers check in to use your free wi-fi, their friends can discover your business by seeing the status update in their news feed. After checking in your call-to-action button is front and center, and liking your page so they can follow your business on Facebook is easy. More check-ins and engagement with your page will improve how it ranks in search and the nearby tab on the Facebook mobile app.  Who wouldn't want to be on the top?
Turn your business into a wireless hotspot.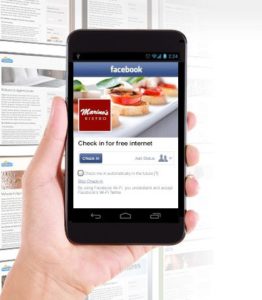 Forget about complex wireless router settings. Ease your security concerns! Give your customers monitored access to wireless Internet while securing your business network from hackers. Customers simply check in to your location on Facebook to connect to free wi-fi.
Increase customer Facebook engagement rates
Wi-Fi codes and passwords aren't necessary
No new accounts to create for your customers
Customers can manually check in or set it to automatically check them in whenever they visit your location.
A new breed of wireless router
Our wireless hardware exceeds the speed, reliability and security of all mainstream devices on the market. With our mesh enabled self healing network at speeds up to 1300Mbps you will never have a dead spot in your building.  Powered by our cloud controller complete with Facebook wi-fi integration, this will be your new best friend.
[themify_icon icon="fa-child" style="large" icon_color="#fff" ] Customer Testimonials [themify_icon icon="fa-child" style="large" icon_color="#fff" ]
It's time to get onboard with the best new business marketing tool available!
[themify_button style="flat xlarge" link="#ulp-DyoAwqfTmsnBhL9F" ]Contact Us[/themify_button]